Blast Off Summer Reading with Kids A-Z
Description of Program – BLAST Off Summer Reading with Kids A-Z Program:
Every student PreK through Fifth-grade will have access to their online Raz-Kids Account.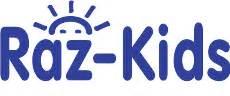 > Visit site to select appropriate APP to download
Your child's Raz- Kids login will be sent in a letter from the school the week of May 22.  If you don't see a letter contact your student's teacher. The online account will be open during the summer for students to access books on their reading level. Incentives will be awarded to the top three Birdville students who read the most books over the summer. The program will start June 6th and conclude on August 7th.
Prize Incentives:
First prize – Student who spends the most time reading in Raz-Kids will win an iPad Mini
Second prize – $100 gift card
Third prize – $100 gift card
> Click for the Blast Off Summer Reading with Kids A-Z online presentation